By Marc Munroe Dion | Herald News Staff Reporter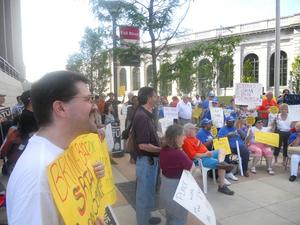 FALL RIVER — A fired-up group of some three dozen bus riders and their supporters, including the union representing bus drivers, demonstrated loudly outside Government Center on Thursday afternoon. They rallied ahead of a Southeastern Regional Transit Authority meeting in hopes the authority would include funds in its budget to provide service after 6 p.m. and on Sunday.
Michelle DeLima, an organizer with the Coalition for Social Justice, led the group in war chants.
"Don't leave us in the lurch, let us go to church," the crowd chanted. "The people, united, will never be defeated," they yelled in unison.
Eric Carvalho, president of Amalgamated Transit Union Local 174, Fall River, and also a driver with 14 years of service, said members of his union support the drive for more services.
"This support is what's going to make that change," he told the crowd. "The ATU supports you. We are in support of extended service."
"We have not had night service in Fall river and New Bedford since the 1970s," DeLima said. "We haven't had Sunday service since 2002."
Fall River Mayor Will Flanagan said he supports the idea of extended service.
"I look at communities in the state, in Boston, and they have access to night and weekend service," Flanagan said.Flanagan said he had personal knowledge of what extended service might mean to some people.
"I've talked to people who have told me they want to take a night class or two at BCC or UMass and they don't have transportation," Flanagan said.
"It's important we continue to organize," Flanagan said. "It's important that we continue to stay focused."
Groups represented at Thursday's rally included not only the union and the Coalition for Social Justice, but Bus Riders United, a statewide group, and Massachusetts Senior Action, representing the elderly.
Led by UMass Dartmouth student Sean Connell, the group chanted "Bus riders deserve responsiveness and respect."