A Special "Win-Win" Opportunity When You Donate in 2017
The CEDC is one of a handful of community development centers that was chosen in 2014 by the State to receive tax credit allocations. What this means is that as a donor of $1,000 or more, you will receive a 50% state tax credit, on top of the federal tax deduction.
For example (based on 35% tax bracket):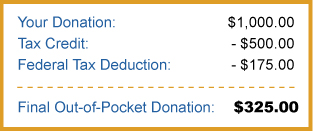 This is an extraordinary opportunity to support the work of the CEDC — removing barriers so people in the neighborhood can reach their economic goals. You'll be helping New Bedford residents who are striving to make better lives for themselves and their families, while reducing your tax liability. It's a real win-win.
While only donations of $1,000 or more are eligible for the state tax credit, your donation in any amount will have a positive impact on our community. The CEDC is deeply grateful for all donations.
Please support the work of the CEDC today with a tax-deductible, tax credit-eligible gift.
Donations can also be mailed to:
CEDC
1285 Acushnet Ave
New Bedford, MA 02746-2020